Ashtanga Yoga – A Healing Practice October 2021
1. October

-

4. October

€200 – €280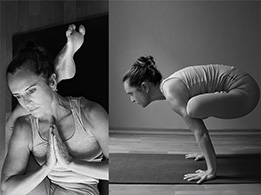 Advanced Ashtanga Yoga Workshop with Andrea
In this workshop the main focus will be on the healing aspects of traditional Ashtanga Yoga. Andrea´s lifelong studies of different healing methods and practices come together in this unique workshop.
We all undergo life changes, some are constant and some are felt more instantly and sudden. If we built the practice up in times where we feel strong and able to practice intensely, the practice can carry us through our difficult times. And sometimes we have to let go of the outside form and are only able to practice on an energetic level. Still the sequences can offer us their intrinsic healing possibility. It is of upmost importance to not stop your practice in this times of transformation.
To read the full schedule please go to the website.
Please email us before purchasing a ticket and mention your previous experience with Ashtanga Yoga. Thank you.